A History of My Cars 1995 - 2001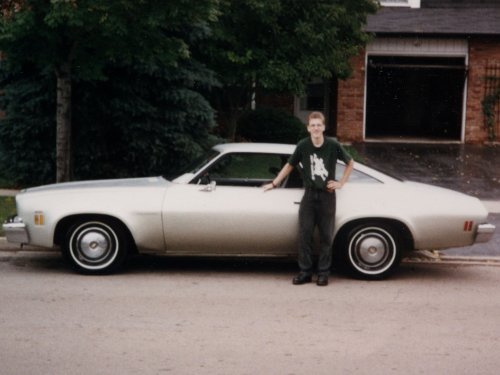 1973 Chevy Malibu
My very first car was given to me by my grandmother Maria Kawerau. It was originally my grandfathers but after he died she learned to drive and it become one of those legendary "lady driven" cars. I was pretty lucky for a kid in the mid 90's to have a huge V8(yes it had a 350, the legendary 5.7 litre GM powerhouse) under my command. All the other kids were driving whimpy four cylinder Tempos and Escorts. Gas was .35 cents a litre, and ten dollars bought me half a tank and a weekend of fun. Somethings about the Beast(as it was known among my friends) were not so cool. It was an awful green colour, and it had a bench front seat. Anyone in the "know" knows that real muscle cars had bucket seats. Also, it was one year too late to be a real muscle car. After 1972 all American cars had polution controls put on them, which severly hampered the horsepower of these once mighty V8's. The mono sound took a while to get use to. While listening to Led Zepplin I had to work the R and L channel back and forth to get different instruments to be heard. It was hard to let go of this baby, and when my dad bought me my next car he made me trade it in for a measly $50.00.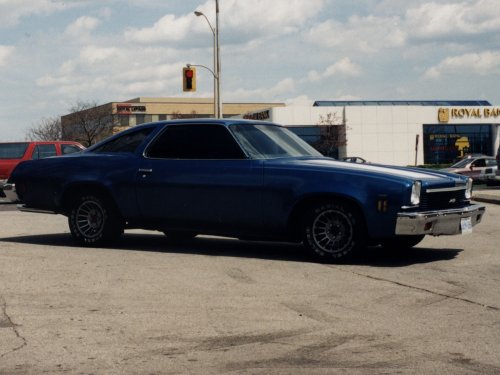 1973 Malibu "Bad Ass" Edition
I found the car months later still living in B-town. It had been done all up. It was now blue with white racing stripes. It also had tinted windows and... front bucket seats! It was like all my dreams finally came true, except I no longer was the driver. The guy did not believe me that I owned the car previosuly. It took no time to prove it. I not only unlocked the door with the key I had kept, but I started the car. The Beast is very much missed.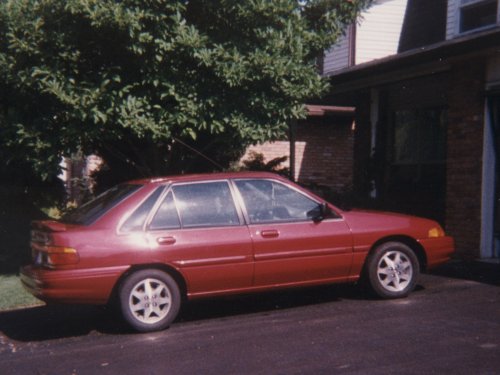 1995 Ford Escort
My father bought me this car. It was a huge leap in technology from my Malibu. No more pumping the gas peddle or waiting for the carbs to warm up. Heck, the automatic shifter was on the floor! This would be the first car that I owned to have A/C. It came in handy sometimes, but for the most part I always liked driving with the window down. The only thing I did to this car was tint the windows. After some time, the insurance was too much for me to pay. I ended up trading this car for my brothers. My brother had a pretty serious accident in this vehicle and it was completely destroyed. Amazingly my brother came out fine.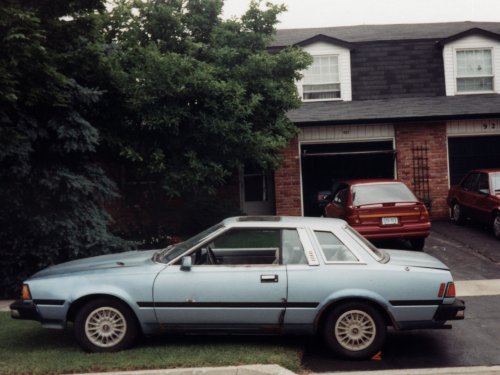 1981 Datsun 200SX
The photo above proves one thing about me. Scrap yard blood ran through me, even before I knew what it meant to be a scrap yard guy. My grandmother must have had an unlimited amount of patience when I lived with her. I know the car on the lawn must have bugged her. I bought this P.O.S. from David Sullivan. He needed the cash for who knows what. The car never started, and we towed it with a rope behind a Ford Explorer along Lakeshore Road in B-Town, and it lived the rest of its life in the garage. The car on the lawen was a running parts cars I found in the paper. The one in the garage never saw the road again. The one on the lawn did hit the road, even though it had no plates, and a broken frame. My friend Simeon knew how to drive stick(I didn't at the time) and we went for a quick spin around the the Zeller's parking lot. Our drive was cut short when we turned the corner to drive behind the grocery store and found two Police cars lurking in the alley.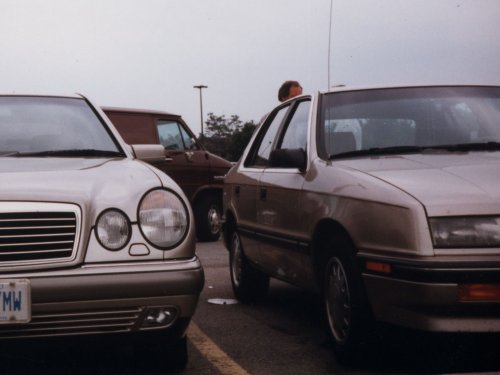 1992 Plymouth Sundance
This car was originally my brothers. I gave him my 95 Escort in exchange for this hunk of metal. The insurance was much cheaper and that was all that mattered at the time. This car was outfitted with an Ahhh-Woogaa horn, installed by my electrical geniius friend Simeon. He placed the button on the arm rest so it could be used descretly. It was a red button with a chrome ring, and I always felt like it was a button you would see in a James Bond car. It use to give us great pleasure to scare people in parking lots with the horn. Infact the only good thing about the Sundance was this crazy horn. This car was eventually stolen. Which isn't surprising since it has the very easily defeated Chyrsler "glow ring" ignition. All one had to do is pop the glow ring off and the ignition slides out. Insert screwdriver and drive away. The police did recover the vehicle, but it never recovered from it's late night spin down Beach Road. I sold it for parts to some crazy people from Caledonia.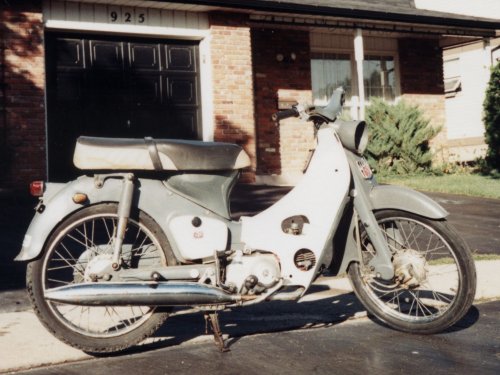 1965 Honda C65
During the Escort/Sundance years, my friend Simeon peaked my interest in Honda scooters. He owned a beautiful yellow one, and it only seemed right that I have one. The first of such scoots was this 65. It ran, but never saw the road. I ended up selling it to a man in Toronto.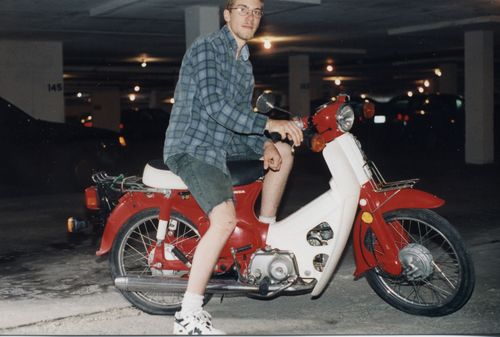 1982 Honda C70
This scoot was a good score. I think I bought it for $400. It ran but needed TLC. Upon pick up, this scoot had no headlight, and was covered in Classic Rock Y95 stickers. $200 later the scoot was road worthy and I found myseld with an M2 license. This scoot became my main mode of transportation when I worked at Chip King in the parking lot of Canadian Tire on Fairview in B-Town. I sold this bike to Aaron for $600 and it became known as the Apocalypse Bike. The scoot eventually came around to rest in the scrap yard that I ran. I sold it for $400 to an old Polish man who now uses it up at his cottage to make runs to the lake he fishes at.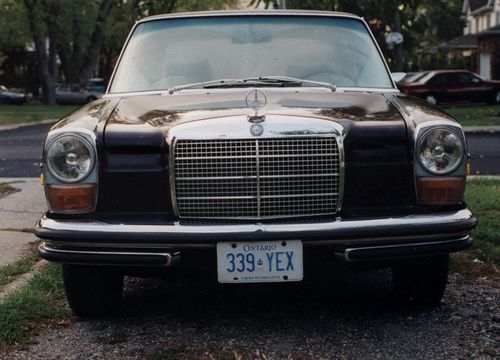 1972 Mercedes-Benz 250
I purchased this car after I sold the Sundance. At the time I was working for Precsion Auto Parts. PAP, was an aftermarket import auto parts store. I took the job after becoming interested in Benz vehicles through Simeon's purchase of an old '77 300D(115 body). The 300D needed a lot of work, and I thought the job would help him get parts and tips. The 300D was a lost cause, and over time working with Jim (the owner of the store) I began to learn about and develope a deep appreciation for early Mercedes cars. On of my customers who owned a Import shop on Barton Street in Hamilton had the above car for sale. The price, looking back with the eyes of an experienced car purchaser was way over the top. $3,000. However in my eyes, it was exactly the car I wanted. I borrowed $1,500 from my good friend Mark, and I asked my parents for the rest. This car was reliable but high maintance. The dual Zeinth carbs gave my mechanic many headaches. As the price of the gas rose, this car became expensive to run. Although it was only a 2.5 litre in-line six, it could only run on high octane fuel due to the high compression ratio. My favorite memory of this vehicle was taking it on long highway trips. The confident M130 engine would zip along the highway doing any speed I asked it too. It was like driving a piece of art.
Oddly, I have no picture of this truck. If anyone has a picture of me and this truck, please let me know. This was the only car I ever bought brand new, and I will never do so again. The original reason for purchasing this truck was depression. I had recently come out of a long term relationship, and my ex-partner at the time told me I "wasn't a truck kind of guy". This purchase only put me in a worse mood when it turned out to be a bit of a lemon. The engine was flawed from the factory, and I ened up selling it cheaply to a man from St. Catherines.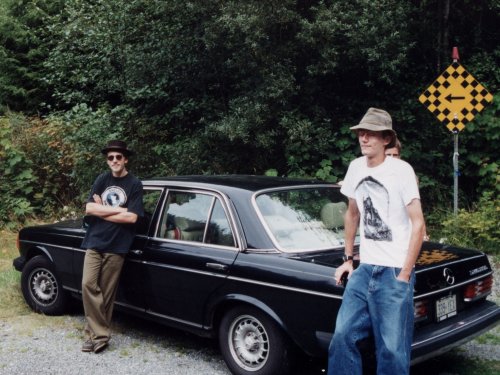 1985 Mercedes-Benz 300D Turbo
This car will always be my favorite. I bought it for $8,000 from Mark Kramer. Mark was Mercedes-Benz Canada's Ontario Regional Director. This black beauty was his wifes car and he need to sell it because he had bought her a 1988 300TE. This car was in excellent condition and dealer maintained for all of it's life. Not only did it have that going for it, but for the last 5 years it had been on synthetic oil. This car did not leak one drop of oil, or burn much of it for that matter. Under the hood was the mighty M617 5 cylinder in-line diesel engine that made Benz famous. The M617 engine was used for almost 25 years, and is a perfect example of fine German engineering. Sure it was a bit noisy, but that "wankle wankle wankle" noise meant only one thing. Reliability. To this day I can hear the M617 "wankle" and know if I look around a 300D is somewhere in traffic. I drove this car across Canada and down to San Francisco. It never gave me one problem. Not one! She would happily cruise at 140km/h with no effort. I don't think the RPM gauge ever registered over 3,000. Sadly we parted our ways in Victoria, BC. I had no money, and she had to go. I sold it for, I think $4,000. Which paid off what I owed. The picture above was its last long trip on the Island, the day before it was handed over to it's new owner.