I tried to cross camp Pendelton this morning. There was a really big fence in the way. No razor wire but lots of that unfriendly barbed wire. I went down to the ocean, no luck fence to the water. I was attacked by a feral cat. I took it as a bad omen. So i turned around and went back to the main gate. I asked the gaurd at the gate if the Marines would let me walk across. He had to check with his superiors. He returned and told me no. If I had a bicycle I would have been able to get through. they allow cyclists to cross. It was a bit of a let down. I would've had a 2 lane road all to myself. Instead I had to walk back to Oceanside and catch a train.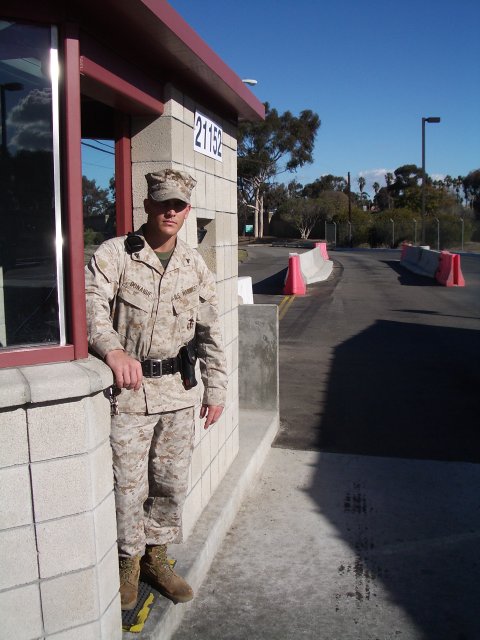 just the faintest hint of a smile
The train was alright I guess. My feet were happy for it. But i feel a just a little bit defeated. The train didn't stop at San Clemente which is the first town you come to on the otherside of camp Pendelbum. Instead I got off at San Juan Capistrano. A town which is built on a Mission. The Station is beautiful. I am glad to have had the chance to stop there. If I had walked across the camp i probably would not have gone there as it is a few miles inland from the Coast.
I followed the San Juan Creek back to the Ocean. It was a nice walk. A clear flat path. I talked briefly with some old dudes drinking beer next to it. They were pretty entertaining. They thought I was homeless, and advised me that it was going to get cold tonight. I didn't bother correcting them. Or telling them that I am Canadian and fully versed in camping in Snow, let alone 5 degree weather.
Upon Arriving at the coast the Terrain got pretty steep. The coastal highway went up and up. I started feeling it in my calves. Quite a wealthy area. I was impressed at the precarious constructions of the dwellings there. Some real nice stuff. At least a few utilized Frank Lloyd Wright's cantilever design. I took a slight detour down The Ritz Carlton Blvd and got to see one very expesive peice of property. Gorgeous, especially with the rippled ocean teasing the Sunlight into shimmery diamonds. I found myself whistling at more than a few points. At one point I even started aplauding.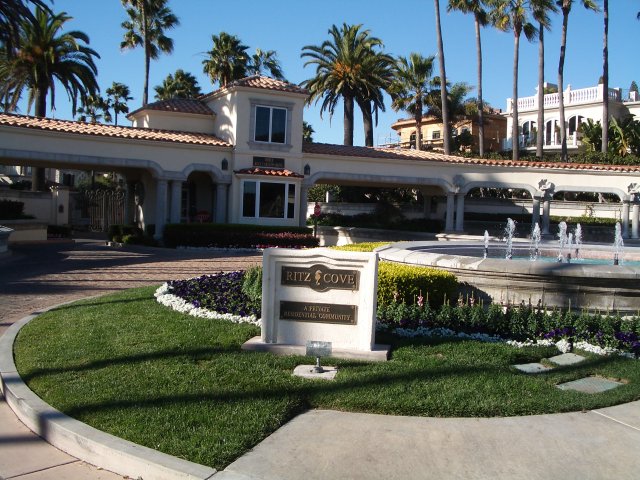 I stayed there the night. HA! I wish
There is one major drawback to these neighbourhoods-- no sidewalks. Well there are a few but they are sporadic. Half the time its just an extended shoulder with Huge SUV's and Trucks parked on it. Very annoying to the pedestrian. I seemed to be the only one attempting to walk the road though.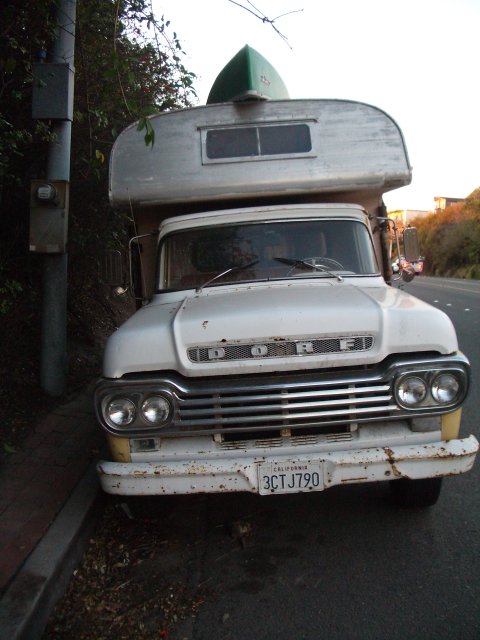 not quite an Suv but quite the obstacle
At one point i got fed up with walking on the Highway and took one of the stairs down to the beach. The Beach. Ahhh the Beach. if only there was more of it. If only all the world was beach. We would all be in heaven. Except that it strains the hips when you have a huge backpack on. So i took it off as well as my boots. and just wandered around in circles. So nice underfoot. Theraputic really. Takes away all the pain, and grinds the blisters to bliss. One day i will find a way to walk all the worlds beach completely naked and free. But for now I will save it for those times when i just need a break.
I am currently sitting in a Cafe in downtown Laguna Beach. The thought of renting another hotel has crossed my mind. I could do it. Everything is so clean and shiney in this town it may be impossible to find a cheap one. A homeless man has informed me of a shelter just up the way. I think I am going to avoid it. I am a little worried about sleeping on the Beach. I don't want to get arrested. I would break my promise to the inmates back in Carlsbad campground. That would be unfortunate. I'll have to think about it a bit more i guess.