Of Newfoundland~ the first leg
here I sit in another internet cafe smack in the heart of St. John's Newfoundland. I've been here maybe 14 hours or so. The flight was a little bumpy and the 3 hour layover in halifax a bit dull. it livened up when i struck up a conversation with John from St. John's. he assured me that i would have a great time walking across the island, and to expect some real good Newfie hospitality. So far he has been partly right. i have yet to experience hospitality. they are quite friendly though, even if they give poor directions.
It was raining when i left the airport at 10 last night. that blowing misting kind of rain that wets one jjefsdfasdfst several times and asking for directions from every adventerous soul out in the soup, i finally made it down town. that being accomplished i looked for a cheap motel. there is no room for under $50 here. its all $80 plus. so i had to kybosh my plan for a bed for the first night. so instead i drank a few pints at a local saloon. A man who worked at the local brewery "Quidi Vidi," explained all the processes involved in making beverage i was consuming as it was drunk. i stumbled out of there at a quater to 2 and the misting had stopped. it was then a short 3 km hike up signal hill. where i smoked a joint and unfurled my brand new sleeping bag under a full moon.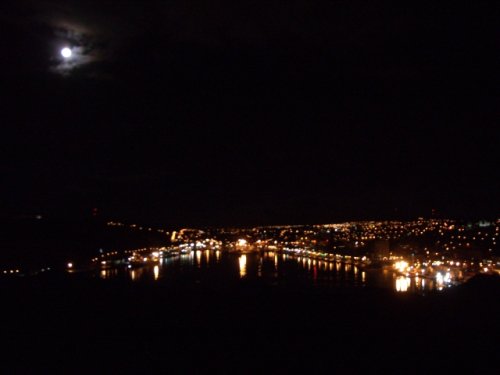 the view from my sleeping bag
I woke to the sun rising over the serene Atlantic. there i was the furthest east i have ever been. watching mr. burning hydrogen painting one of his prettier pastle pictures. the start of the newest adventure.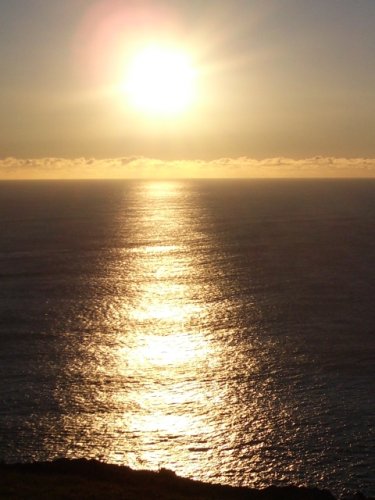 greetings
I debated waiting around on signal hill for the Geo Centre to open. Instead I just ate the blueberries growin on the front lawn. Peaking in through the windows, i got a gist of what fun learning could be had in there. leaving blue hand stains on the glass. in hind sight perhaps i should've waited. i do enjoy rocks, and i do enjoy learning. I'm sure it wouldn't have cost to much. but waiting around for three hours didn't sound that appealing.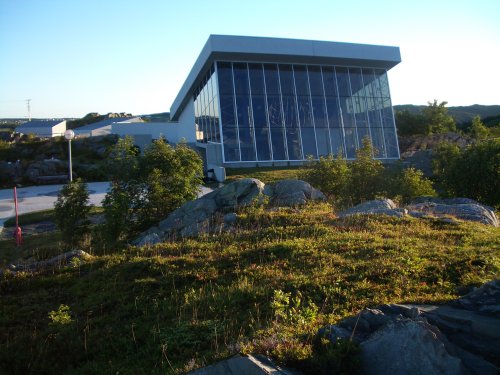 rock museum
i'll have to come back this town is too much. It would take a month of binge drinking to frequent all the pubs here. Bars and pub's seem to make up the most of the commercial end of downtown. Its bars or souvenier shops. Tourism is Newfoundlands new industry, and is evident by a small walk through Downtown. history and tourist are mingling on the flagstones.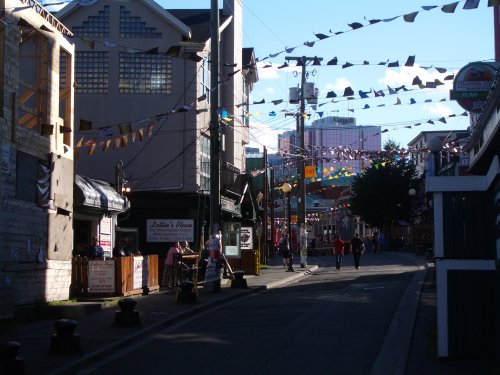 george street

stairs, everywhere stairs
History is what the local kids blame for their chaotic city planning. St. John's was designed for horse transit not car transit. well that and a generally hilly terrain. No road is straight in the city. No intersection is perpendicular. in one particular part of the town 5 roads intersect. its sheer madness. The intersection itself is huge with a cross walk cutting across it at a very unlogical angle. While i sprinted across the street. I was thinking to myself what it must be like to be a boy scout in this town. If helping an old lady cross this dodge-car court would really be worth the good deed? there would definately have to be a big chunk of candy in the deal I would think. Consider it danger pay, i'd say.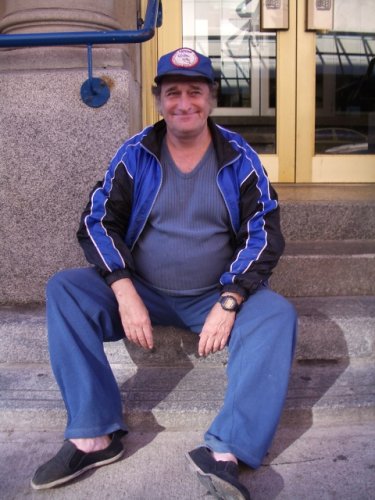 sunny stair sitter
Today has been all right. i got lost some more looking for a thrift store. Where i purchased a good-used harris tweed. then i paid $5 to see "the rooms" of Newfie culture. its this new art gallery/museum/archive/theater building recently erected by the province of Newfoundland and Labrador. quite a looker of a building. at first i thought it was some strange Masonic Temple, as it had all the bold and heavy architecture of a cult headquaters. i was plesently surprised to find out that it was in fact not. about an hour ago i finally found mile zero of the trail. My pack awaits me there. as soon as i finish here and get one last little parcel of supplies i will be walking up and out. according to my map. I have a 30km jaunt along the seaside before the trail heads in-island for a while.