The Beaten Path To Badger


I mosseyed out to the street to head back up to the trail and main street. The guy who said it was a far walk lied. it only took maybe 30 minutes and i stopped for a freezee along the way. Upon making it back to trail, i stashed my sack and went back down main street. The first place of foodery i passed was this place called Wayne's World, so i popped in. the bartender was pretty laid back. it was just getting on 5:00 and nothing much was happening. I ordered a burger and a beer and paid slight attention to the action programe on the large screen to my left. The burger was excellent. I believe it was called a Monster Mozza burger. It was monsterous and the cheeze was real i could taste it. The bartenter chatted me up quite a bit. Once i told her that i was walking the T'rail bed she got really excited. "My little boy would get a kick out of you. he loves that survivor man show." she exclaimed "he loves them books to, teaching you how to live off the land and such."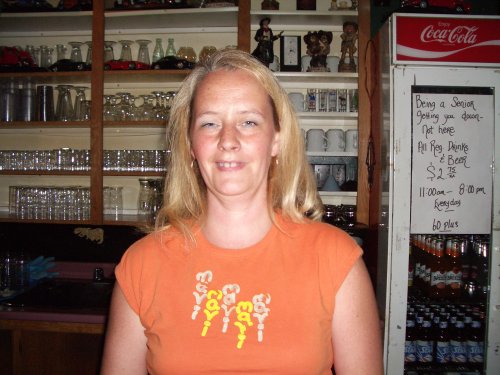 Wayne's World
try as i might i could secure no red rope licorice on the premises
It was about then when the clerks from the Music shop next door came in. They sat down at the bar and chatted me up as well. The young guy, i believe he was the son of the other, turned out to be a tree planter. He had just finished a contract up in Nakina. It was funny because i think i recognize him from days off. I remember running into a newf somewhere's in Geraldton. Any how the connection was to loose to draw any sycronicit conclusions. It was fun just shooting the tree planter lingo though. Talking about contracts and such. His dad ended up buying me a beer to. quite nice of him i must say.
So when I left waynes world i went out baiting for some salad. I ended up talking to these two cats haning out in a parking lot near the old train station. I got in one of their cars, they were kind enough, they rambled on about their adventures off the rock. It seems that Newfoundlanders are great travellers. Every Newfie seems to have gone off to another part of Canada to visit relatives or something. Some come back prefering the island to mainland lifestyle. Some stay gone. The ones who stay gone get lots of visitors. Anyhow we took a drive up the street. to this nice little home just around the corner. The lady at home was watching a DVD of some new James Bond flick. She had a really nice terrier. he was young and full of beans. kept on trying to get me to play tug of war with him. he succeeded several times in coaxing, but we soon left. Kieth ended up taking me out to the grocery store, which is where i wanted to end up anyway. I had my salad now i needed the main course. I picked up a couple boxes of granola bars, some carrots, a bunch of munchies some chocolate and some cans of cheffy. (I really can't wait to get back to a stove). It was a bit of a walk out to my pack after, but I got there just as a great sunset was happening. I waited till dark then went out to the highway where I had spotted the perfect bridge earlier.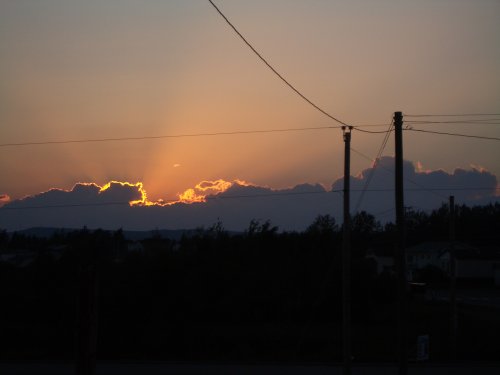 isn't that pretty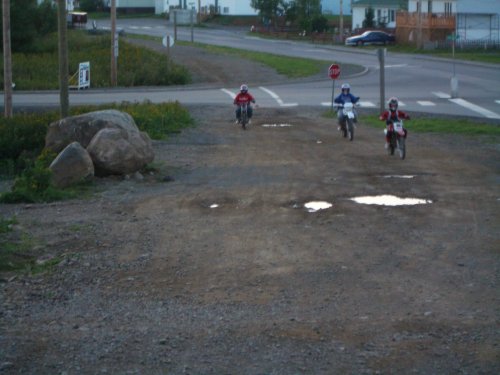 two strokes smoke, while four strokes choke
It was a great sleep under the highway. Its a bit strange having traffic drive over you all night. Out here in Newfoundland the highway shuts down at about 10 until 6am. Its great for sleeping under. One car a half hour, and counting... zzzzzzzzz. The next morning I hiked out to a tim's to grab a coffee. I hit the trail at at about 9:30 am. It was a lovely day, cloudy with sunny breaks and a nice wind. perfect walking weather. I think it was the same weather system that had formerly been know as Katrina.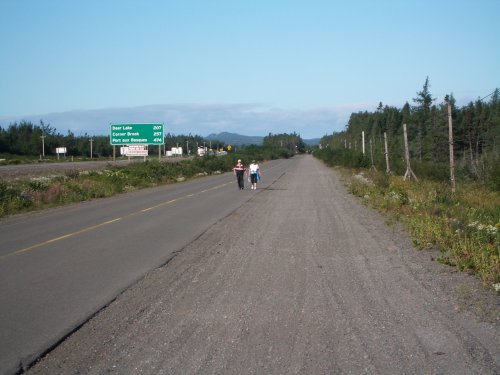 nice trail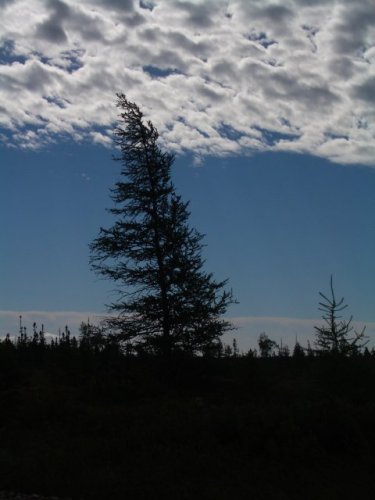 katrina still blows
It was pretty quiet for ATVs, but the highway was never more than a kilometre off. Its dull growl a constant reminder of the urgency of modern life. Just as i was drawing near to Badger one of the bye's whom i was talking to the prior evening, showed up on a quad. He stopped and stopped me as a consequence. "Well bye, its been a day." he said. "i'll say." i replied. we had a little session at the side of the trail, and then he cajoled me into taking a ride out to Badger. It was only 3 kms. and he was adamant about the ride. So i took it. Somehow we fit me him and his girlfriend on the quad. It was fortunate that she was so small and could fit between the two of us. My backpack bounced away on the front rack. He drove pretty slow which was nice. I had no worry of become a projectile. While i do enjoy ballistics I've never been partial to human aplications.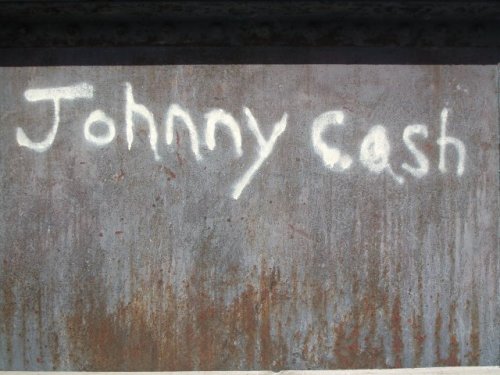 long live the cash
Kevin dropped me off at a restaurant, where i tried their burger. That one was kinda small. Not much to note about it. I hate giving bad revues. i wasn't there long. Just enough to eat my food and use the phone. Then i made out for the trail. I didn't get very far that evening. maybe another 10 kms. but it was the begining of the big empty. from Badger to Howley the trail leaves its route alongside the Trans Canada for about 90kms. along the way there are no store so one has to bring their own snackables. its not really that big of a stretch when you think about it. but it is daunting. especially when a person likes to travel light. so i planned to do it in 2-1/2 days.
The next morning I woke up covered in the thickest dew i've seen yet. it wetted my sleeping bag through. But i shouldn't complain because the stars that night were incredible. I saw at least a doze shooters, and a helluva lot of sattelites. the next morning was sunny once again. My mission was to walk some 40 kms to the quarry, an old rail stop in its formal glory. It was a great morning for walking. I was passed by a group on ATVs, they were headed to Deer lake. They said they'd see me in the evening on their way back. It was windy all day. I think it has something to do with the openess of the land. The thick stands of black spruce, were slowly replaced by shorter and shorter trees. In Millertown Junction, a cabin vacation spots, I stopped to watch some chaps lifting an old cratex with a crane. It wasn't to interesting so i continued on.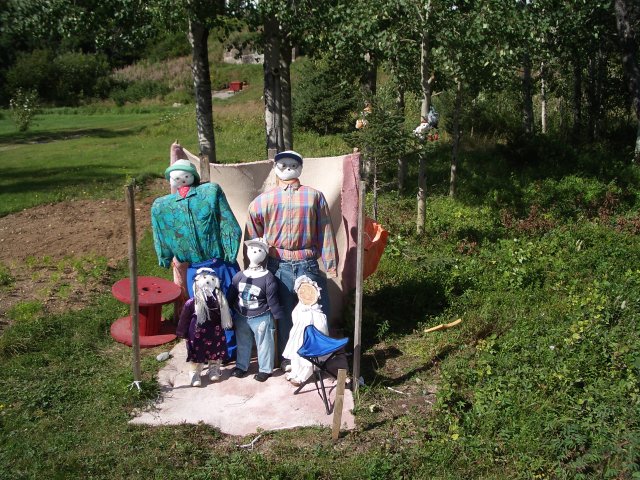 stuffed nylon family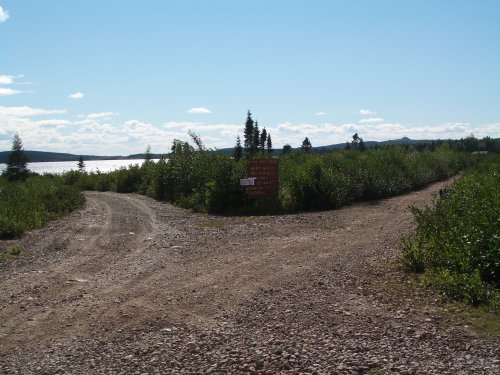 The group of ATVers passed me again at about 5. They gave me some chips, a can of soda, some baked goods, and told me of an abandoned CN car up the track. They said it was only 7 or 8 miles. Being a metric man meself, i had no concept of how far it could be. It didn't take long, especially after the caffiene and carb boost from the soda and the ravioli. The Rail car was in a early state of decomposition. Not to bad from an abandoned perspective. The floor was somewhat clean and solid. I found no trace of mouse turds, and there were two bunks. I chose the larger of the two bunks and spread out my tarp over it. pretty comfortable, with no traces of urine, but a used mattress non the less. Hence the tarp application. I was awakened in the night by the back door slaming from the wind. but other than that it was an easy sleep. There really is nothing like a mattress for sleeping on.