What's Around in the Corner


It was late in the afternoon when i finally left Deer Lake. The trail took me down towards the shore along a little abuttment. It soon turned into a messy hair of sticks. It continued on like this for several Kilometres. Then suddenly spilled out on to a wide gravel road, with a few scattered houses on it. I waved to a couple of folkes who stopped to stare.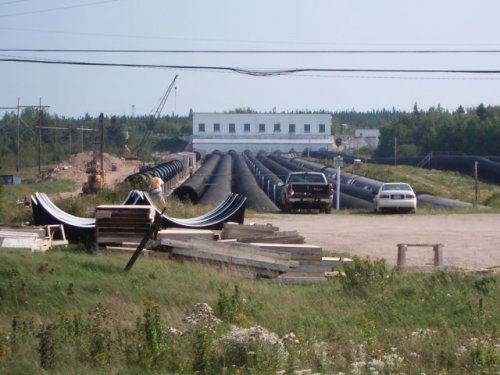 Another dam on the outskirts of Deer Lake
An old man stopped just past the last exit on the highway. I was in the middle of rolling a number. "So you like the wacky-tabacy hey" he said. "Me, i like rum." He smiled at me with his one gnarled tooth. The previous night the ten year old had pointed out a shack to me at the side of the trail. The lad proceeded to tell me that an old man lived there. He included in the description the fact that the man was the town drunk. This man told me that he lived at the side of the trail a way back. He wondered why he hadn't seen me pass. I told him I passed late in the evening. We didn't talk for long. Before he left the old man shook a bunch of change out into his hand. He handed it to me and told me to have a loaf on him. I tried to refuse. Saying I had plenty of money. He was insistant. I took it. There is always another coffer in which to drop her.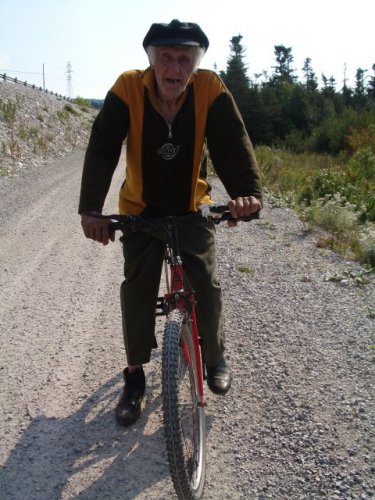 The trail continued on until it met a fork in the road. I couldn't decided which was the right way to go. I sat down. Looking back down the road i saw a young girl racing to catch up to me followed by a three legged dog. So i waited. She was all in a huff when she arrived, and barely got out a "wow, you walk fast." It turned out that she was sent by her mother to see if i needed anything, like a drink or a sandwich. I had just eaten and my water bottles were full so i declined the offer. She did however entertain me with stories about some hitchhikers who had passed through recently. They had offered them sandwiches too. Her mother had even given them cigarettes. I asked her which was the road to Pasadena. She said both of them went there but the one to the right was the easier of the two. I took her advice, having not learned from my Placentia Junction fiasco. But she was right. the road turned back into a trail, and spit me out at a tunnel under the trans can.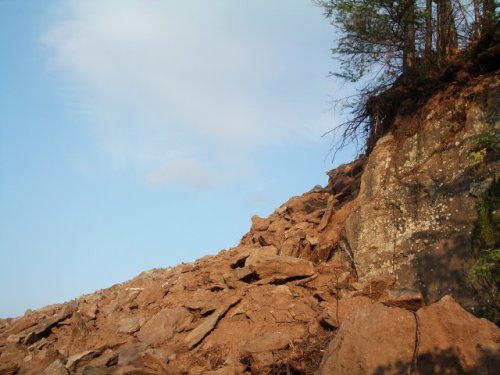 gettin on towards evening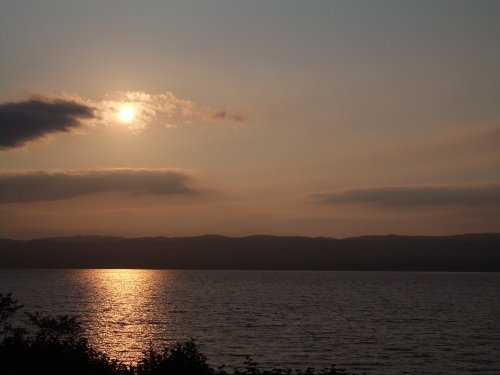 I decided to leave the track and try to find a Gas Bar at which i could buy some coffee and some smokes. It took for ever to get around the town. the road i chose seemed to circumnavigate the city. Eventually I made it to the bright lights of the Irving Gas Bar. I stopped and grabbed a coffee, some smokes, and a curb. It didn't take long until a man from Newbrunswick chatted me up. He was a clean cut chap, probably into some kind of suit business. He asked me many questions, and i answered them as best as i could. While we chatted a couple people passed by our conversation and on their way out of the gas bar, they joined in. A mother heard enough of the conversation to say "Have i got something for you!" She went to her car and pulled out a ziploc bag filled with blueberry muffins. they were warm still. "here you go. A little treat for your trip." she said. i munched one with my coffee. oh they were good. melt in your mouth. The crowd disapated and i was left talking to a man with an eye patch. He kept on telling me about Newf hospitality. "yes bye, we newfs, we'll feed ya, shelter ya, and try to get ya to marry our daughters."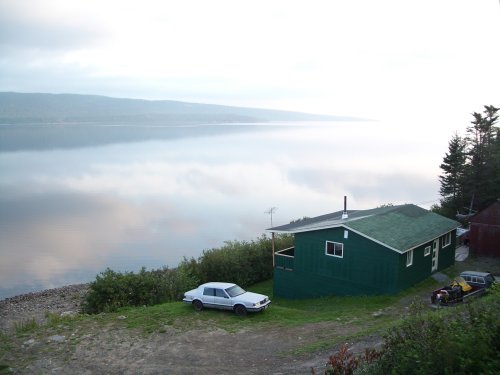 a lovely fog
I left the gas bar to try and find the trail or at the very least somewhere to sleep for the night. I found a bridge at the Trans-can and decided that there was no better place. twernt bad, but it wasn't the best thats for sure. I slept until about 8 or so. then i packed and peeled out. the "trail" turned out to be the road on the other side of the bridge. I found that out by asking some construction workers. It was pretty much just gravel until Steady brook where it briefly turned to ashphalt. I Stopped at aother Gas Bar to ask for directions. The lady behind the counter told me that there wasn't a trail until you got past corner brook. So i had to hike about 7 kilometres on the Trans Can. That is probably the best part of the Newfoundland Trans Can, so i didn't mind. In fact it reminded me of walks on the Trans Can out in BC. Narrow Valley with tall green walls and shear faces of rock. Quite a remarkable piece of road.
At about 2 kms from Corner Brook a man stopped to offer me a ride. I hate the word no so i hopped in. He ended up taking me well past the area where i wanted to connect up with the trail. Instead he dropped me off at the top of the valley overlooking Corner Brook. It ended up being for the better. From that vantage point i could see the whole of the valley that Corner Brook is situated in. The Focal point of the town is its main industry, which is Pulp and Paper. The factory sits right at the water's edge steaming away. An eyesore for some, a source of income for most. I stopped in a tourist information kiosk up on the edge of the highway. The lady behind the counter couldn't help me with a direct route to the trail. but i had a pretty good idea of where it went. When a train track is in a valley there is really only one place for it to be-- at the bottom. so i went on into to town to scope it out. It didn't take long to find. As i had guessed, the train track went past the main industry and therefore was easily spotted. It started to rain at that point. So i found a restaurant to hang out in. I found this lovely little bistro and nibbled slowly at a plate of calamari. I think it took me a half hour to consume the plate, which is remarkably slow for me. but i needed to abuse a little time there to stay out of the rain. Later i went out to the mall to loiter.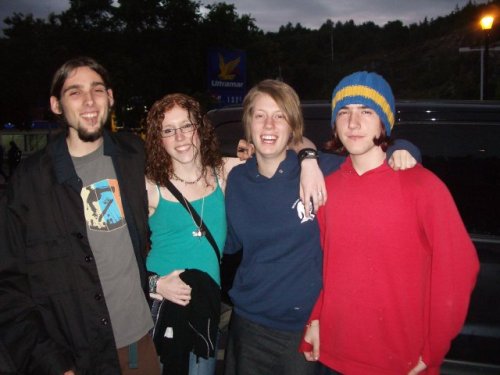 cornerbrook cats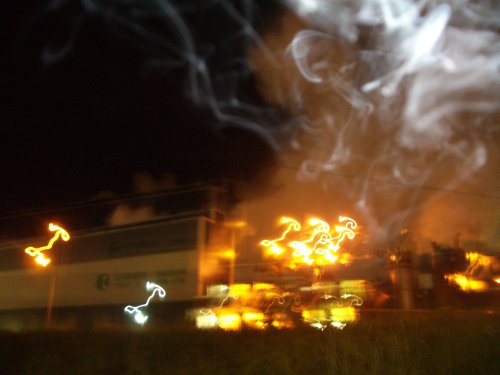 something smokey
I found the perfect bridge to sleep under right next to the mall. it was sandy underneath, and some considerate traveller had left a large piece of carpet, and some cardboard boxes for me to utilize. The best sleep ever.