And There Was Moose Everywhere


!!Warning graphic Images Ahead!!
viewer discretion is advised
The next morning was cloudy but there were some pretty patches of blue. I started off pretty early hoping to make the 44 k to Gallants by nightfall. At about Mid-morning i came across a pool of blood in the path. It looked like somebody got their moose the day before. As I got closer, I noticed some bits lying about. They were bits of the moose i was sure, but the inside bits. Then i found the legs, a few random patches of fur, and finally the bowels. for the most part it didn't smell like i had imagined it might. i guess that was because it was so fresh. the pile of poo that was a little farther down, now that reaked. After taking a few pictures and getting a really gross feeling, i hastily walked away from the gore.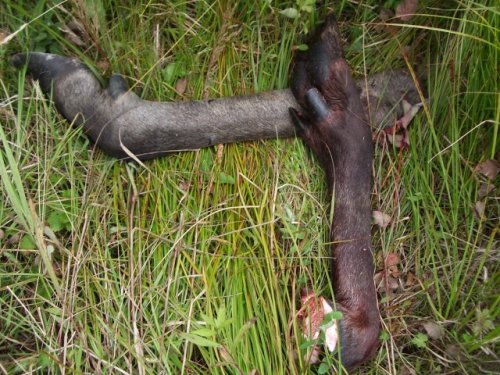 yuck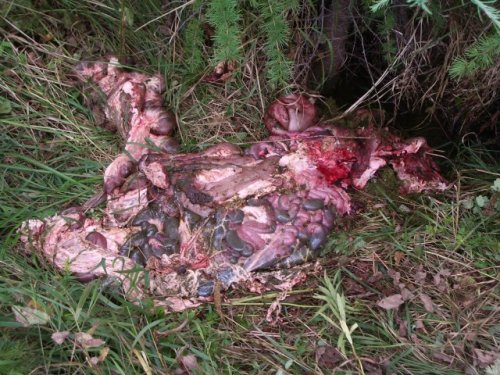 double yuck
Just past noon, as i was passing my 100th beaver damn, i was stopped by a man in a Nissan Titan. He asked me if i wanted a lift. At first I thought no. Not on your life, not in that gas guzzler, then i thought. Wait a minute. This thing has a 5 litre in it right? There is no way that this guy is using a half his engine power toting his golf clubs. Why not get in and do the environment a favour by better using the potential of this monster. He dropped me off at the top of George's Lake which was about 5 km down the trail. I made sure to tell him that I was walking for the cure for cars, and he told me that he had a little 4 cylinder for booting around town. He was a nice guy but i think he had a little to much money. He was into realestate and happened to own the little internet cafe in St. John's, where i paid $11 to type out the first of these blobs.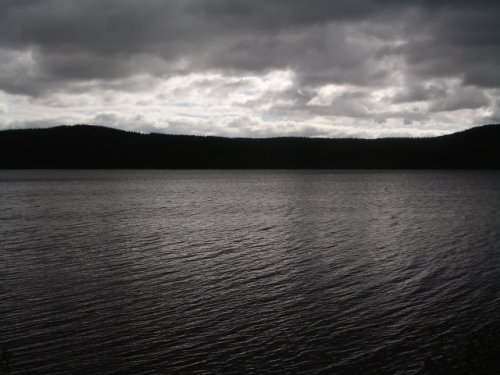 george lake
It was a fine sunny walk down the side of George's lake. Despite the picture. I ran into some cottages here an there. A couple of people stopped me to give me some water. They were real cheerful and impressed that i would go on such a long walk. Some other byes who were installing a water pump. The community of Spruce Brook, is a sleepy one. Not much shaking.
It was only 8 kms to Gallants from there, So i picked up my pace as it was getting into the late afternoon. I got to Gallants Just after i smoked my last smoke. only to realize that i had no cash, and there ain't interac. I let out a few profanities in front of the store, then went back in to buy 3 smokes off the lady behind the counter. she charged me a dollar fifty. i really gotta quit that stinkin habit. its no good really. anyhow, that little upset fueled my fodder, and i was bent on getting to Stephenville Crossing that night. I had to. Plus it was starting to look like rain again. So i walked, and walked. Saw a man on an ATV with a moose head strapped to the front. I shuddered again. I thought about giving up my opportunistic ways and going back to vegetarianism.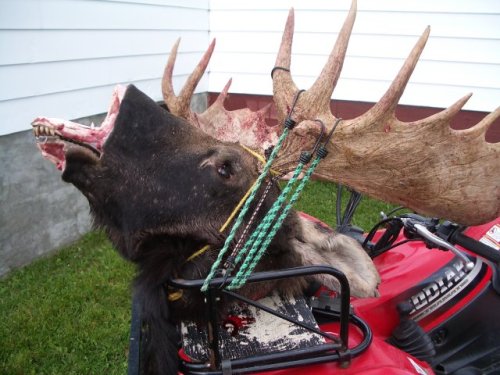 gorey nes pas?
I walked some more. It started to get chilly. I walked some more. The sun set. I walked some more. In the failing light i caught sight of a plume of smoke. It was maybe 2 kms down the trail. I made for it. I got there as the dark really started to set in. The plume turned out to be a cabin. I went to ask how far it was to Black duck which is about 10 kms from Stephenville Crossing. He told me that i had made it to black duck, but not without inviting me in first. They offered me coffee, which i declined, and then they offered me cake, which i accepted. They told me i was nutz for walking the trail by myself. "whatever" i thought "everyone knows i'm crazy and nutz." Then the owner of the cabin asked me if i wanted a ride to the highway, which is about halfway to Stephenville Crossing. I accepted and he went out to get his quad ready. The lady of the house made me sign the guest book before i left, and handed me 2 bananas for breakfast.
When I got outside Mike Commented "I think you might see some rain tonight." "I hope not" I replied. I straddled the bike and on hopped mike. The trail gets all wavy from Black duck on. It was like I was on the highseas riding on the back of that thing. Up and down, up and down. We saw a moose dart across the path. mike yelled "i'll see you tomorrow." (your not allowed to hunt on sundays, otherwise he probably would have shot at it.) He dropped me off like he said, at the highway.
I started down the dark trail imediately. The half moon illuminating it enough to be able to see the large bits of gravel. Soon I saw lights glow over the horizon. Then i saw the dim shadow of a water tower. Slowly I crested a hill to reaveal the town and the ocean. I didn't get very far into town before i found a bird sanctuary. I ended up hunkering down in a Duck blind there.