2002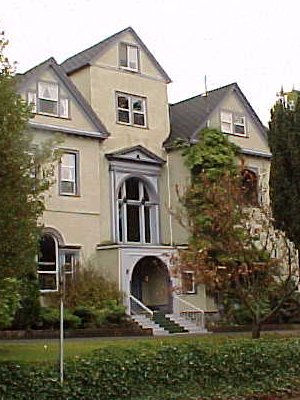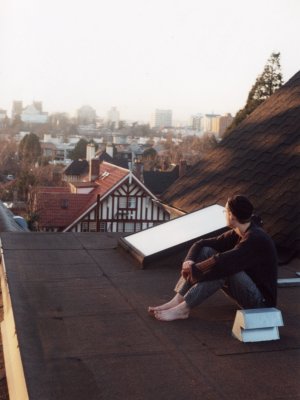 By the begining of 2002 I had set myself up well in Victoria. I had met some new people and secured an amazing apartment that became known as the Rockland House. You can see it on the left picture above. My apartment was the top window on the right. I had spoken very highly of BC to all my friends, and after a visit from Aaron(Simeon's younger brother) and his friends Brenden and Dan it was not long till more Ontario folk started to move out.
Brenden was the first to move out, around January. He came to live with me at the Rockland House. Hot on his heels was Simeon, who showed up later that month. You can see Simeon sitting on the roof of our place above on the right.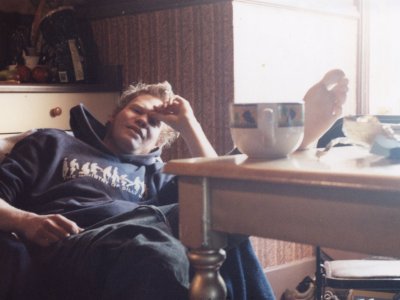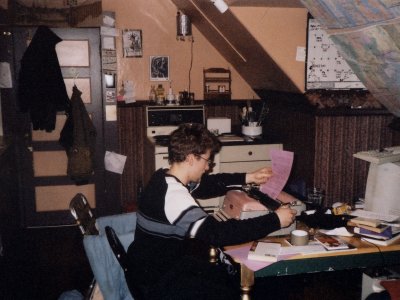 So, it was the three of us living in a one bedroom apartment. Times were good, and we had a lot of fun. Victoria is really a paradise, and one becomes easily spoilt there. Above you can Brenden on the right hanging out at the kitchen table that become the focus of our socialising. So many nights were spent around that table talking and drinking beer. The above left picture is me working on my pink Royal typewriter. I typed numerous letters on that baby, and I wish I still had her.
To this day I feel guilty for leaving those two guys so soon after they arrived. My relationship with Melonie was becoming more intense and the distance was not helping. I decided to move to Montreal and left in April. One must not regret doing things in life but this is one thing I did that could be filed under M for mistake.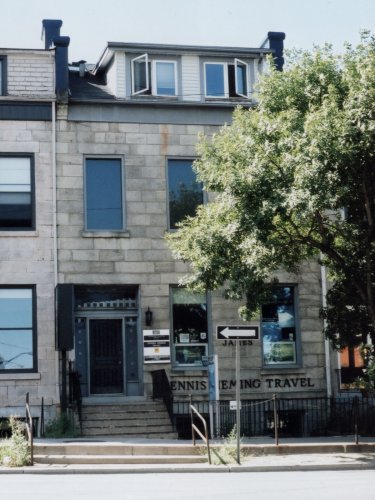 I did not stay long in Montreal, as finding work was difficult. I managed to land a job over the phone at a Hyundai dealership in the East End of Hamilton, Ontario called Vanpark. Before I knew it I was on a train headed back to Southern Ontario.
The transition from life in BC back to Ontario was tough. While Melonie was wrapping things up in Montreal, I worked and looked for a place we could call home. After looking at dump after dump, I found a great place on James Street and it was ours as of June 1st. In the picture above, our apartment was the floor with the two windows wide open. Those windows stayed open year around almost. I remember once in the winter the apartment was so hot that the A/C came on!
Vanpark Hyundai was a joke to work for. The dealerhsip was horriblr and mis-managed. I worked under a guy named Rick who was the only guy with a brain there. He was probably one of the best parts managers I have ever met. He liked me and we got along well. During a meeting one day I stood up in the middle of the head morons speech and after being acknowledged I said "I do not want to work for the circus anymore, I quit". Rick gave me a smile across the room, I had done what he had wanted to do for along time, but couldn't because he had a really sick kid and needed the money. I hopped on my bicycle and never returned.
I breifly worked for a temp agency, which found me doing all sorts of odd jobs. A night of packing shoe shine mitts in a factory, working at recycling plants, moving appliances and the oddest was working at Stelco. There I worked in the oil recovery pits. Imagine me in an empty 30 foot silo washing sludge off the sides with a fire hose. I eventually landed a job with Parts Source, a Canadian Tire off shoot. That job lasted three weeks. The only good thing about it was meeting a man named Tim, who would later become a close friend.
Parts Source ended after I took a job at B and D Auto Recycling. The "yard" as I always refer to it, became a huge part of my life, and the year, despite my relationship with Melonie being rocky, things were looking up.