2001
What do you do when you are bored, and angry at the world? Well, join the revolution, and that is what I did.
One night while sitting around with Simeon talking about world events, it occured to me that we should get involved in alternative politics. I remember going through an Adbusters magazine(I think issue 27), and seeing information about an upcoming large scale protest against the FTAA in Quebec City. This was it I thought. Our ticket into the world of activism. Finally things that I had always been thinking about I could now act upon.
A routine of leaving work and heading for meetings in Toronto took me over. Before I knew it, I was getting deeper into organising for the protest that was set to happen in April of that year. I had decided to hold my own community meeting in Burlington in an attempt to form an affinty group. Below you will see a copy of a flyer that Sim had made. I distributed that flyer around bus stops in Burlington, and would open newspaper boxes and fill The Post with these flyers.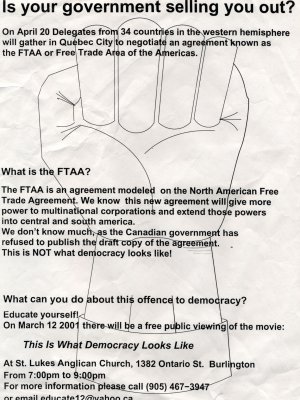 While all this organising was going on, I decided to take things one step further and try to start a union at the dealership. That was a slow process, but it started to build steam. One night while at an important meeting in Toronto, I was filmed by the CBC and that footage was aired on national TV. The next day at work everyone knew I was headed for Quebec, and the questions started to pour in. I actually didn't mind, as it allowed me to engage my co-workers in conversations about the FTAA and the effect it would have on us all.
Before I knew it, it was time to board a bus and head for Quebec City. What occured next was a bizzare mix of a fantasy and a nightmare.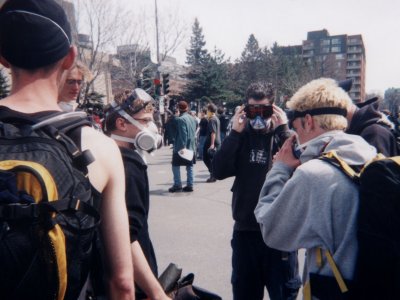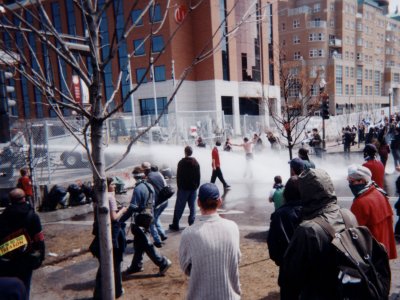 The subject of Quebec City Protest is a large one. I will evenutally make a site dedicated to it, and go into further detail about the three days I was there. To sum it up, it was a life changing event.
The picture on the left is me wearing my rather pricey gas mask. It worked well, and allowed me to walk through the thickest of tear gas. On the right you can't really see me, but I am second from the left of the people ducking under the water cannon spray. That was the second day of confrontation. By the end of that day I was very tired, and while trying to get away from it all I met up with a girl named Jesse from Maine. Her and her group just made it into town after being tied up at the border. I was giving her the lay of the land when something very bad happened.
I looked up to see three unmarked vans pull up. A unit of armoured riot police came out and began to establish control of the area. At that point it was illegal to cover your face(ie. have a gas mask on or even a scarf). My gas mask was on so tightly that I couldn't get it off. A police officer broke rank and walked over to me. He shoke his head in dis-approval of me. I thought he was going to arrest me, but he walked away. While doing so he pushed one of Jesse's friends(a woman, who had no mask and was dressed normally) into the side of their van. I believe he did this to get me to fight back and give him a better reason to arrest me. We were all too stunned to do anything. They began to barricade the road off, and I told them to get out while they still could. They offered to take me with them but I told them I didn't want my mask to get them in trouble. Plain clothed officers started to make their way over to us and it became apparent that this was going to turn bad. Jesse grabbed me and pulled me into their van. They sped off and cleared the area, taking me a good distance away to relax and get my mask off finally.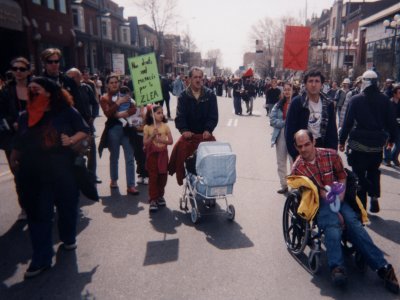 There were ofcourse moments of magic in those three days. The feeling of solidarity amongst all the people in the street was amazing. The level of co-operation was un-real. The above picture is one my of favorites. So many ordinary citzens came out to support us. You will never see pictures like this when a main stream newspaper covers these stories. They way they make it out is everyone is dressed in black and they all throw bricks. This is so far from the truth, as the above picture proves.
Apart from meeting Jesse while I was there, I did meet one other person while taking the bus back from Quebec. Bill, one of my affinty group members introduced me to a man named Ray. Ray was from Manitoba and had been friends with Bill for some time. We hit it off well, and it felt that we had known each other for years. As years passed from that day, Ray and I have had a close friendship. Although we have never had the good fortune of living in the same city together we alaways manage to see other in various cities.
Getting back to normal life was a bit tricky after that weekend. We all wanted to keep fighting. We all had stories and memories to deal with. We couldn't believe all the lies that we read printed in the paper.
If you're not living good, travel wide, You gotta travel wide

lyric from Soul Rebel - Bob Marley
On May 9th, I was fired from my job at Garden Motorcar. Looking back it was for the best. I suppose my interest in starting a union, my involvement with Quebec and the fact that I had pushed a co-worker in a fight all added up to my firing.
That evening I sat on the front steps of Sullivan's apartment on Grant Ave in Hamilton. Peter was sitting next to me and asked what I was going to do next. With my dress shirt half un-buttoned, my tie pulled so it loosely hung around my next and a beer in hand, I looked up at him and said "I'm going to California."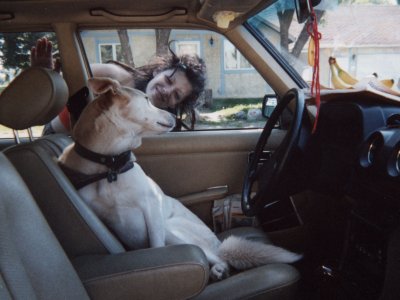 I called all my friends and no one wanted to go on my cross country tour. I eventually called Jesse back in Maine, and she was all up for the adventure. We hit the road May 21, and it was one hell of a ride. The story is too long for this page, and in time I will detail it on another site. The picture above shows Jesse her dog and the interior of my Mercedes-Benz 300D that I travelled in.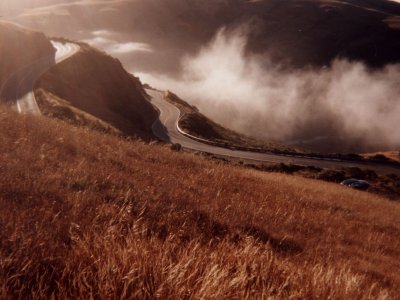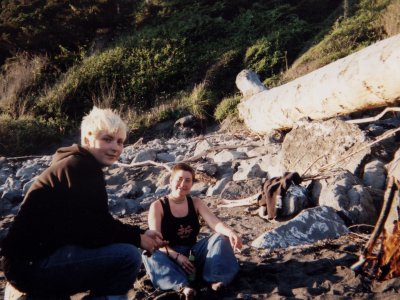 I made it to San Francisco, where I parted ways with Jesse. I called home rather sad and feeling lonely. After words of encouragement, my father said to me"...and David, promise me you won't pick up any hitch hikers." "Sure dad.." I replied with fingers crossed. I drove out of San Fran till I was away from the city and found a place by the Pacific to sleep. The morning brought to my eyes the picture on the left. That day as I drove north on the legendary 101 Coastal Hiway I came across two hitch hikers which I picked up. The picture on the right is Brandy and Heidi my first two hitch hikers ever! We spent the next three days together and they showed me around the Pacific North West. The also introduced me to Portland, Oregon - a city that would become a stompping ground for me later on.
We parted ways with promises to see each other again as soon as they returned from a retreat they were going to. I headed for Canada, with almost no money to my name. I didn't like Vancouver so with my last $50 I took the ferry to Vancouver Island, and headed to Victoria.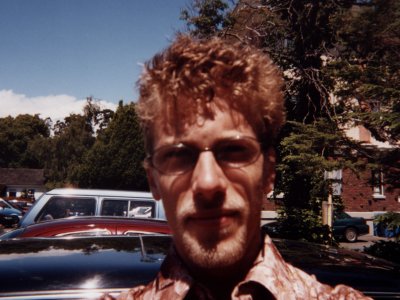 I was in Victoria for a couple of days and lived in my car. The above picture was the offical last day of my road trip. I had just made a cup of tea and a can of soup on a camp stove in the parking lot of the BC Royal Museum. I headed to Tofino the next day and picked up a bunch of people that needed a ride to meet their friends camping. I would later offer these girls money to live at their apartment in Victoria for a month. They had no extra rooms so I lived in a cut out in the wall that was meant for a TV. Having an address, phone line and shower I was well on my way to getting a job. I eventually landed a good parts guy job with Honda.
In August while living with the girls(on Ontario Street, how ironic) I sent a letter to a girl named Melonie who lived in Montreal. I had written her regarding a zine(small self published magazine) she had made and I bought while in Montreal days before I picked up Jesse. By the end of the year, and two flights later I was dating her...long distance.