I arrived in San Diego at around 3:00pm yesterday. It was pretty glorious. The train station is right downtown amongst the tall buildings. I had dinner at the Fish Market on the water. I had the mesquite grilled mahi mahi, a fish so good they named it twice, and a pint of some local bitters.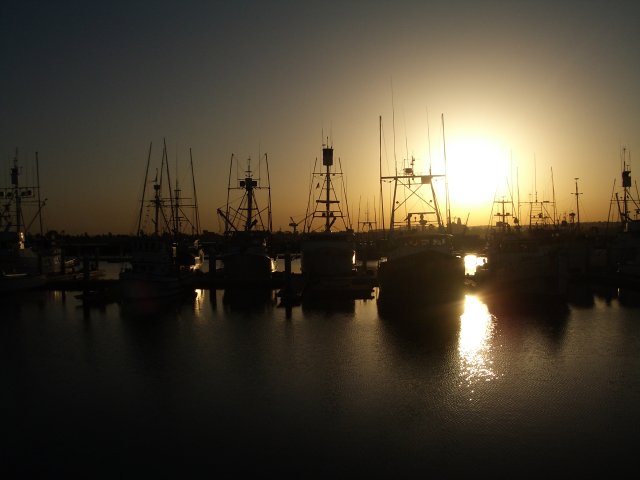 San Diego Marina
After dinner I asked a cab driver where the hostel was. He directed me to 5th and Market. just around the corner. I walked over and found it in the Gas-lamp district. I am still trying to find out why they call it that. As I have yet to see a Gas lamp. Its a pretty kitchy area. You'll find all the major retailers here. Either on the street or in the collosal mall that is a focal point of the area. There are plenty of bars too. I didn't go to any but they range in variety. From your typical Irish Pub to Spainish Tapas bars. Any type of cuisine is also available.
When i Arrived at the Hostel it was later in the evening. The man behind the desk was all to kind. and ushered me in. $22 without a hosteling international card. Not to bad. The bed was much cleaner than that hotel up in LA. I hung around and chatted up a few people in the computer room and emailed some people. Went over to the grocery store and bought some supplies. It was really nice to be in a city that had more than just Chef Boyardee.
I went to bed pretty early i think it was 9:30pm or so. It was a little difficult to sleep due to the harmonious snoring of my roommates, but i have slept under bridges after all. Not to big of a deal. I woke up in the middle of the night some dude whent through my pants. I had taken out all my valuables but I still asked him what he was doing. It appeared as though he was asleep. He was mumbling incoherently and seemed to be looking for HIS pants. He put mine down and went to the bathroom, walking into the door-frame as he did so. I fell asleep again shortly after that. slept the rest of the night without incidence.