In The End Everyone Likes Nudity


As I parted ways with Fintan, i couldn't help but feel a little disappointment. I thought intially that i had found a walking partner at long last. But i suppose it was an inevitable break-up. His legs were barely the length of my ankle. Incompatible gaits i guess. I had a lump in my throat as I walked away. When i stopped for my next break, i looked back to see if his white head would poke around the corner. but he didn't show and i continued down the road.
That day turned out to be quite interesting. I fell through a trestle bridge. My back pack stopped my drop into the Codroy River, though. I got distracted by the scenery and missed the next railway tie. It wasn't my most graceful moment. No one saw. The trail followed the river for most of the day. It started out in a narrow valley, and slowly opened up to bogs and ponds, or as the newf's say "pands."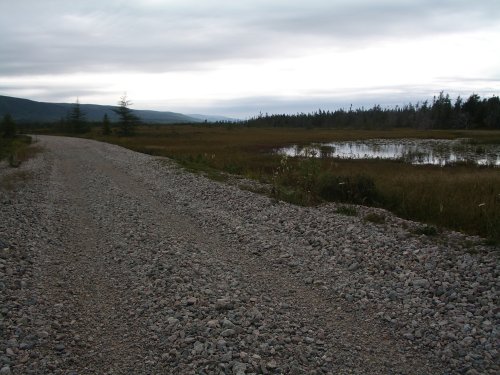 valley opens
I neared what I thought to be my next store at around 4:00. I had been running low on snackables and looking forward to seeing the store. I passed a man chopping wood and asked him where the store was. He told me, "your too late bye, it closed 6 months ago." Not a nice thing to say to a hungry traveller. But his next line was better, "I can fix you a cup of caffee though." I took him up on his offer.
He welcomed me into his humble home and introduced me to his girl friend. Doris sat me down and rolled me a smoke, while BJ busied himself with the proctor-silex. He then rummaged in the fridge for a minute, and produced a log of Bolongna. "Like a sandwich?" he asked and procceded to cut me a steak of the log. It was about an inch thick. Slapped on a bunch of mustard and mayo, and shored it up with a couple of slices of the ol' nutritionless white bread. Hungrier than a bunch of hippies at a reggae concert, I reduced the san to crumbs and cheek wipes in seconds. Doris offered me a little of her homemade jam, so with another couple of slices of styrofoam i sampled some of her wares. quite tastey. Nothing better than a newfie raspberry. Bj then sat down and we rapped about history for a while. Apparently an island near Newfoundland is the site of the Solar Eclipse that helped prove a bunch of English therories on the size of the globe. Good ol' globe trottin Cap'n Cook was sent there upon science's request. Science at the time had a bunch of numbers sitting about, and when they calculated them, they came up with a site of a solar happening. An eclipse. the co-ordinates that came up with were in the New world. Cap'n Cook who was going there to map stuff, was given this special mission. To observe the eclipse and prove that their "guess" was right. Interesting facts always make for good conversation.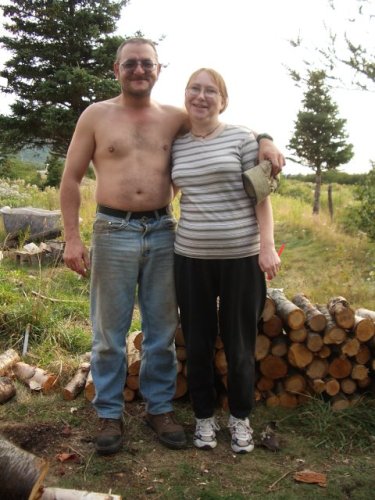 Doris and Bj
I left BJ and Doris's place just past 5. They told me that there was a store in the next town. I figured I would walk the 12 kms to Doyle's that eve. The pot of coffee we consumed coursing through my viens, i sped down the trail as a mack truck filled with lead on a hill with no e-brake. I nearly ran over an old man. He had a bicycle pump in his hand. I asked him if he had a flat. "No its for filling me raft." he replied. He had just been out across the river cutting wood for winter. He was waiting for winter to retrieve it though. He walked with me for a few feet then turned off to the highway. His wife was going to pick him up there. Hard to understand that chap though. He spoke without moving his teeth, and it seem as though he was experiencing the onset of parkinsons. The dark was creeping up at that point. Night was coming, and I was told that the store would close at 10 so i picked up the pace.
It was full on dark when i got to the crossroads. I followed it out to the highway, and found the esso as predictated. The store had just closed. 5 minutes past 9. Curses and candy bars. I was trapped and had to sleep in the vicinity to be sure that i could purchase food for the next day. Luckily i found a Truck trailer to sleep under. There even was grass. A nice soft sleep. With a few slugs, but none of those giant ones, thank god.
The next morning i purchased a coffee, and a bunch of high energy food i.e. highly refined sugar. No Carob chip energy balls here. The man behind the counter told me that the ferry across to Nova Scotia leaves at 11:30 pm. Only 32 kms away. So i sped off. It only took half the morning to make it to the ocean. Several quads passed me with riders decked in camo, and rifles riding shotgun. I sent a quick telepathic message to all the moose in the area.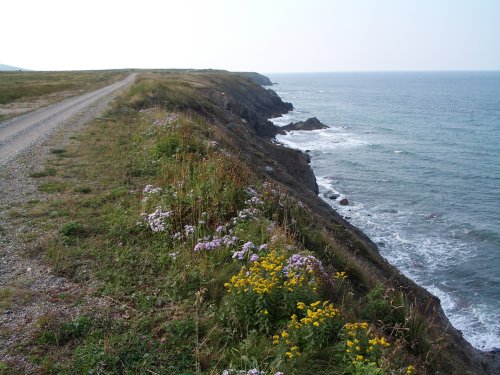 the shore
The last 20 kms of the trail had to be one of the highlights. As the trail neared the ocean, its familiar smells tickled the nose. The shoreline was a rolling line of rocks, cliffs, and kelp, with mountains rising off to the left. I had this little chart which told me the distance between towns. allegedly i passed through 3 towns along the shore. There were no towns, but there were some lovely abandoned buildings. I passed a posse of old folks out picking Cranberries. I had been eating the berries for the past week. it was nice to finally confirm that they were indeed cranberries. the pickers weren't to talkative. they seemed to be really focused on the ground. I'm not one to break concentration. I may have to kill buddha on the road, but no one else should have to. I left them to their zen.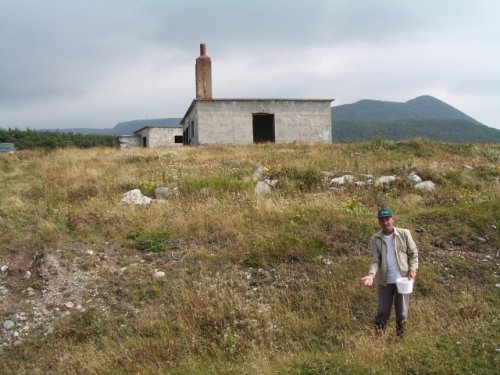 Onward and over Red Rocks, i asked a man where i was. He told me that i was in Cape Ray. closer than i thought. For some reason I thought there was still 20 kms to go. No such luck. I was 3 kms from single digits. Mike the chap whom i asked where i was, invited me in for a cup of tea. Being so close to my goal, i felt the release from the pressure to preform. I turned out to be just the right thing. A cup of Orange pekoe, a tuna sandwich, and a talk about local economics, while we sat around his living room table. A nice afternoon sit if ever i had one.
The last 12 kms to port aux Basque, were absolutely fantastic. I am not sure if it was the elation i was experiencing from being so close to done, or the awesome beaches i was passing. Perhaps both. It wasn't particularly sunny, but it was warm. The rolling of the waves enticing. I had a rather randy idea. I walked out on to the beach and stripped. Nothing like a good bit of nudity to fully enjoy a good mood that's what i always say. The gulf of St. Lawerence was cold. shrinkingly cold. I laid down in the surf and let the waves roll over me for about 30 seconds. In fact I shouldn't even pluralize. It was one wave before i stood straight up. Refreshing all the same though. Then I ran around up and down the beach for a bit to regain a bit of blood flow. And release my testicles from their hiding place somewhere up inside my pelvis. Just then a car came barreling down the dirt path. I turned and waved at it. They sped up. briefly then slowed down once they'd passed. It was two ladies in their mid 40's and they were giggling like school girls. They didn't stop though. just kept on bouncing along. So i clothed myself and hoisted the pack once again.
The trail followed along the shore through the dunes and past a few brackish marshes. They were quite pretty complete with paddling ducks. One of the fresh water marshes had a beaver home in it. Posted on the mound of sticks was a sign that read House For Sale by owner. "Damn beaver haters." I chuckled. The land around was all park land, J.T. Cheeseman Provincial park to be exact. I saw no cheese unfortunately.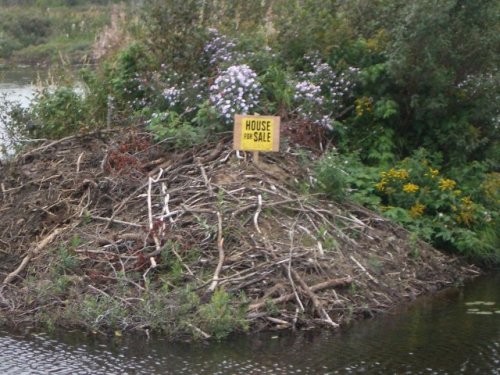 funny
As I crested the last rise of the track, I saw the town of Port-aux-Basque. It was your typical harbour town. Lots of greyish white siding clinging to foundations that are barely on a rock. a few Boats in the water, and fog a little ways out to sea. I sat down there and got high. Not from drugs or alcohol, but from the sense of reaching a goal previously thought to be unattainable. Then I came down realizing that this was the end. So I stood up and hoisted the pack. taking small steps to preserve the last kilometre or two. The track turned into pavement as I crossed the first of the outlying streets. It was an odd ending to the miles and miles of rail aggregate that i had just traversed. As i rounded the last corner i saw the train. The old Newfie Bullet, The blueberry express, as some called it. Here was its final home. The tracks all torn out. It invited me with its huge, orange, snowplow smile. Just before the train the ashphalt ended again for several metres. I stooped and kissed the chunky rock.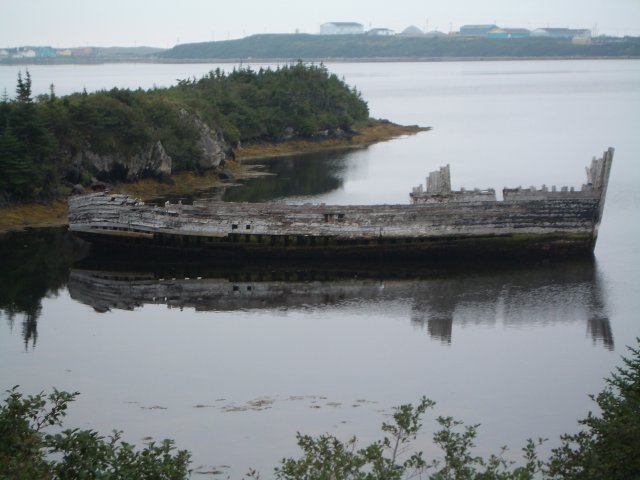 a busted ship waits at the end